Chiran has created an amazing plugin for those interested in playing .abc files in game. For those of us who do, we know how annoying it can be sometimes alt-tabbing out of game to double check file names or using the /playlist option in-game to get an incredibly long list of all of our .abc files.
Well worry no more, fellow LOTRO music makers! Chiran has made the next best thing for LOTRO music, the Songbook Lua plugin!
To download the Songbook plugin, head here.
Once going to the page linked above, click the big shiny Download button! The following window will pop up: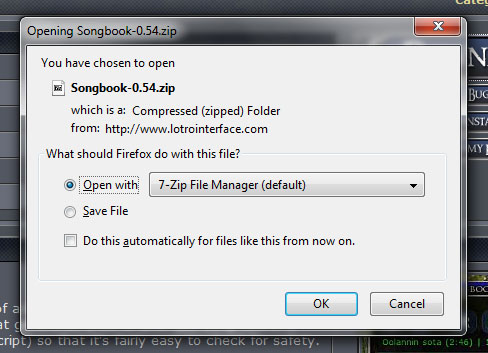 You can save it to a location of your choosing (Desktop might be easier simply for quick access). Or you can click to 'Open with…'. Note that you will need an application that unzips files (I recommend 7Zip because it is free).
Once you have unzipped the file, open up your LOTRO folder, located in your Documents folder. Inside your LOTRO folder, make a folder titled Plugins. Drag the contents of your newly unzipped folder into the Plugins folder:
Once you've done that, go inside the Chiran folder that you just put into the Plugins folder. You'll notice a file called 'songbook.hta'. Click on it:
A window will pop up. Note that the red text is mine:
After you click 'build song library', the window should change and tell you it has successfully located however many .abc files you have in your Music folder.
Now you can log into the game.
Once in game, type
/plugins load songbook
A small blueish square with a white music note should appear somewhere on your screen. Click on it. Then the full Songbook window will appear:
As you can see from this screen shot, there is a list at the bottom of the window of all your .abc files. You simply click on the song name and then click the play button. Easy as pie!
Remember to check the plugin page for updates, as sometimes patches and updates to the game change the way plugins work.
Also note: there is now a search function in the Songbook window. You can use this to search for songs, rather that scrolling through and looking for them.